One of last season's most embarrassing moments... Surrendering a 3rd & 25 TD reception in a 22-21 loss against the Detroit Lions
Last season, the Atlanta Falcons defense was frustrating to watch to say the least. Atlanta finished as the worst ranked defense in the NFL and the 3-4 defense coordinator Mike Nolan attempted to run never suited to their strengths. Their struggles defensively forced the Falcons to run a 4-2-5 defense that provided many agonizing moments and made many Falcons fans wonder could they even stop an old lady in a grocery store. After a disappointing 2014 season which the Falcons ended with a 6-10 record, Mike Nolan has bolted to San Diego (no pun intended) and Mike Smith was fired after the 34-3 home finale loss against the Carolina Panthers. Smith's replacement, Dan Quinn, brings his simple but aggressive approach on the defensive side of the football. Quinn is notable for turning the Seattle Seahawks defense into a Super Bowl caliber defensive unit. Today, we will preview the 4-3 Under defense, a defense that Falcon fans should start familiarizing themselves with as the Quinn era will start in a few weeks.
An outlook on Seattle's defensive scheme under Quinn
4-3 Under Front for Seattle's defense in 2013
The 4-3 Under defense utilizes four defensive linemen and 3 linebackers. Simple enough. As we can see from the chart, the 4-3 Under employs a 1-Tech Nose Tackle that lines up over the Center and can attack the A gap to the left or right of the Center. A 3-tech Defensive Tackle plays to the right side of the Nose Tackle and would be attacking the B gap. A 5-tech's responsibility is simply to attack through the C gap. As we discuss the linebacker duties, the Sam linebacker (Strong Outside Linebacker) and Leo ( linebacker, which is a hybrid defensive end would stand up either near the Tight End or Left Tackle respectively ready to drop back into coverage or blitz the opposing quarterback. The Seahawks employed personnel that perfectly complimented the scheme. With Brandon Mebane playing the 1-Tech and eating up blocks, Tony McDaniel and Red Bryant was more effective at getting after the passer or stopping the run.
As we continue breaking down the positions, the WILL (Weak Side Linebacker) plays the A-gap and the MIKE (Middle or Inside Linebacker) focuses on playing the B-gap in blitz situations. The SAM (Strong Outside Linebacker) lines up next to the Tight End and is expected to shed blocks to stop the run or drop back in coverage when necessary. One of the biggest keys to making Dan Quinn's defensive scheme successful will be the LEO, a linebacker that is designated pass rusher for the team. Seattle has it in Bruce Irvin and Atlanta has it in…well we'll get to that later.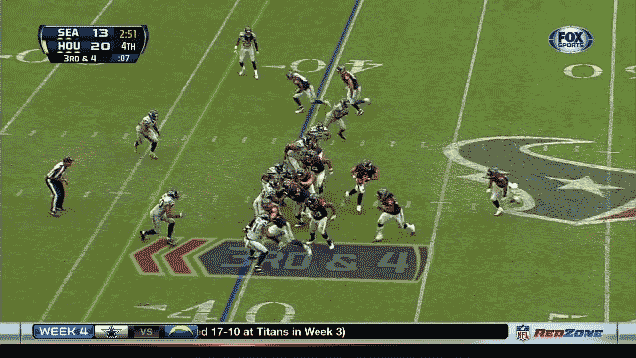 Example of Seattle's effective front seven. Richard Sherman Pick Six vs Houston in 2013
Vic Beasley of the Clemson Tigers holds up a jersey with NFL Commissioner Roger Goodell after he was picked #8 overall by the Atlanta Falcons during the first round of the 2015 NFL Draft at the Auditorium Theatre of Roosevelt University on April 30, 2015 in Chicago, Illinois. (Photo by Jonathan Daniel/Getty Images)
As we continue, although this could be hard for many to believe, through free agency and a successful draft, the Falcons now have the personnel that can successfully run this defense. Dan Quinn has done a remarkable job of envisioning what he wants his defense to resemble and going after players that were overlooked but still very effective if you can get them to play as one cohesive unit. Now let's examine how the new defensive scheme will take effect on our beloved Falcons, shall we?
Although he isn't an ideal fit for the 4-3, I can see Paul Soliai playing the 1-Tech over the Center. He'll eat up the blocks for sure but won't possess the mobility that Brandon Mebane had in Seattle. One of the biggest questions we'll have entering the season is who will start as the 3-Tech defensive lineman? We have veteran Jonathan Babineaux returning to his former position, last year's second round selection Ra'Shede Hageman, a 6'6 318 pound defensive tackle whom according to reports from Falcons minicamp last month looked much leaner, faster and aggressive than his rookie season. Despite our struggles last season, Hageman provided flashes of his raw potential. In addition to his weight loss and improved speed, a successful training camp will have myself and many more Falcons fans rooting for Hageman to earn the starting position over Babineaux at 3-Tech. An influx of youth can be a great addition for the aging Falcons defensive line. I'm sure Dan Quinn is impressed with the potential that Hageman brings to the Falcons defense and will utilize his talents in the right position. Our 5-Tech defensive lineman could possibly have Tyson Jackson as the starter. Jackson, who was probably ready to pack his bags and head back to Kansas City after the year he had last year, will have another chance to shine in a new scheme. As the Falcons begin to implement a new defense that at least compliments him as the run stopper we signed last year, I believe Jackson (although similar to Soliai is not an ideal fit for a 4-3) will be designated to playing the 5-Technique. Adrian Clayborn, also great at run support, additionally has a real shot at playing the 5-Tech.
As we discuss the linebackers, here is where Quinn will have an intriguing situation to handle. Sean Weatherspoon would have been a lock to play the MIKE position; however, his injury history and a couple of tweets questioning his Falcons future ended in Atlanta moving on and Weatherspoon would sign with one of the best defensive teams around the league, the Arizona Cardinals. His departure left us questioning which player will start in the role unless Quinn is sold on third year linebacker Paul Worrilow. Worrilow, is one of the best tacklers in the entire NFL and is easily one of the most hard-working members on the Falcons defense; but, his impact coverage can be considered average at best and he lacks the skills that we saw succeed in Seattle, which leaves the Falcons fan base completely divided about him earning an potential role starting in Quinn's defense. But for a lack of any better options, I think Worrilow will take the MIKE role. Although he receives a lot of criticism from many fans, he is an incredible cerebral player and can make up for his weaknesses with a high awareness and sense for the ball. Unfortunately, I thought Prince Shembo playing the WILL (Weak Side Linebacker) role but his animal cruelty saga ended his tenure in Atlanta. The acquisition of Justin Durant could open the door for the veteran to start as the WILL linebacker with 2015 1st round selection Vic Beasley playing the LEO role similar to how Bruce Irvin performed in Seattle.
Dan Quinn and Richard Smith during Mini-Camp in June. (AJC)
In conclusion, there's a high chance I'm wrong about a lot of my predictions. With training camp looming, Falcons fans will get their first opportunity to see the new additions in action. Also, we'll see Dan Quinn and defensive coordinator Richard Smith start to figure out how to solve the puzzle that is the Atlanta Falcons defense. With a new look scheme and improved talent, the Falcons defense can't go anywhere but up the rankings as we usher in the Quinning era. Overall, I feel that we're in for a treat and it should be a very special beginning to a promising season in Atlanta. RISE UP!!!!!!!!!!
Guess Writer: Matt (@RevanTyranus)