By: Hunter Hamberlin
The Atlanta Falcons' 2016 season was a wonderful year...if we disregard the heartbreaking outcome. Nonetheless, many players had great fantasy years from a statistical standpoint. Let's take a look.
Matt Ryan
Matt Ryan had the best season of his career, rightfully earning league MVP. Like his jersey number, Matty Ice was number two in fantasy points for quarterbacks—3
rd
among all players—with 348 points, according to ESPN Fantasy Football.
It will be interesting to see what Matt Ryan's fantasy numbers look like next year. Expect similar numbers this coming season because his supporting staff will be returning. Do not get too hung up on Kyle Shanahan's departure. Steve Sarkisian should do just fine.
Julio Jones' 260 fantasy points ranked 6th among wide receivers in 2016. Jet Jones averaged over 100 yards per game, but his number of touchdowns were relatively low.
Expect Julio Jones in the red zone much more in 2017. Sarkisian has said Julio will get more targets in the end zone next season. Fantasy owners should expect more touchdowns, and hope for another 300-yard game.
Devonta Freeman finished 6th among running backs with 284 fantasy points during the regular season. His running mate Tevin Coleman managed 191 fantasy points. Those are substantial numbers from two running backs with two different playing styles.
Devonta Freeman has repeatedly said that he wants to be "more disrespectful" running the football next season. That is a bold, and intimidating statement from a running back that can certainly back it up. Tevin Coleman has the speed and the hands to get the ball into the end zone when Freeman is sidelined.
Taylor Gabriel, Mohammed Sanu and Justin Hardy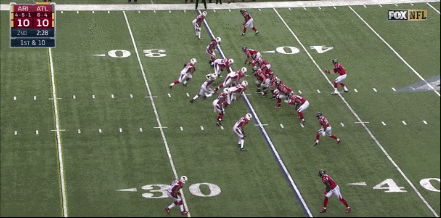 Mohammed Sanu and Taylor Gabriel were certainly important pieces of the Falcons' offense la
st season. Fantasy wise, their numbers were impressive considering they are not primary targets. Sanu racked up 149 fantasy points, while Gabriel acquired 140 fantasy points.
Justin Hardy managed 65 fantasy points last season. He's received high praises from both coaches and players alike during mini-camp, so look for his numbers to have a boost in the 2017 season.
Ranked 16th in fantasy points, the defense put up 88 fantasy points in 2016. The defense got better as the season went on, and the Falcons claimed dominant victories in their final four games of the regular season.


The Falcon' defense stepped up when they needed to last season and managed to hold the Seahawks to 20 points and the Packers to just 21 points.
Look for the Falcons to skyrocket up this list next season. With Dan Quinn maintaining an emphasis on takeaways, the Atlanta Falcons' defense should rack up fantasy points from a position where points are not always expected.
Hunter Hamberlain: @Chips_Ahoy94